Culinary journey
Vitaurina Royal Hotel – the hotspot for your culinary holiday in South Tyrol!
"Approach love and cooking with reckless abandon," said Dalai Lama – and that's what reflects a fundamental part of our philosophy too.
Like our lovers match perfectly, so do Italian-Sardinian and South Tyrolean cuisine.
They represent the best possible symbiosis, which proves to be effective!
Our kitchen team is specialised in preparing both Sardinian and South Tyrolean gourmet food. You should definitely go on a culinary journey – from north to south and vice versa!
The Vitaurina Royal offers the perfect framework for your holiday in South Tyrol.
When bella Italia meets South Tyrol ...
the outcome can only be delicious!
Ambience
Your second home in the mountains
At the Vitaurina Royal, Italy and South Tyrol reunite not only when it comes to culinary art: the furnishings too reveal the Alpine-Mediterranean impact. Felt meets light cloth, warm wood meets off-white tiles, earthy brown and grey nuances meet cheerful ochre and gentle light green – a homage to our green valley and nature, the most valuable treasure our Earth has given us and which needs to be protected. Therefore, the idea of sustainability is a key factor in our business.
Where the love for nature and the Ahrntal Valley can be felt in every corner
We furnished the premises by purpose with many natural materials, in order to create a pleasant and personal atmosphere. Look forward to the newly arranged dining room and winter sun parlour with panoramic views, the stylish bar, two new, traditional Tyrolean parlours, the cosy terrace and a small yet nice garden with comfortable sun loungers. For those guests who like to have a smoke at times, we arranged an inviting smoking room.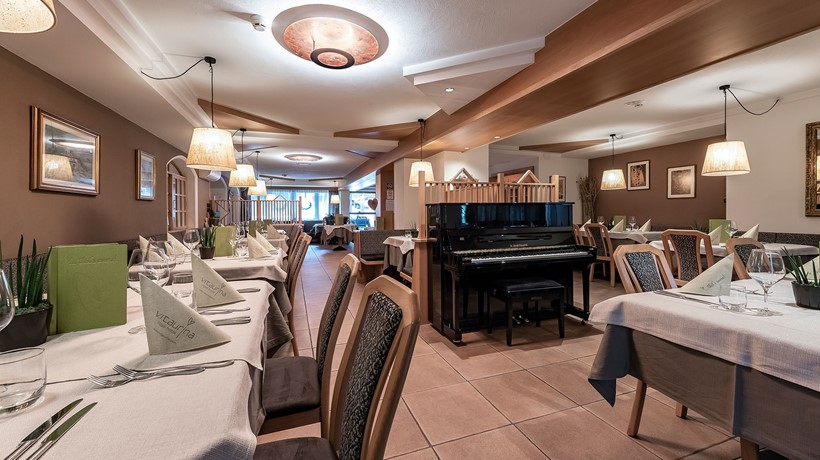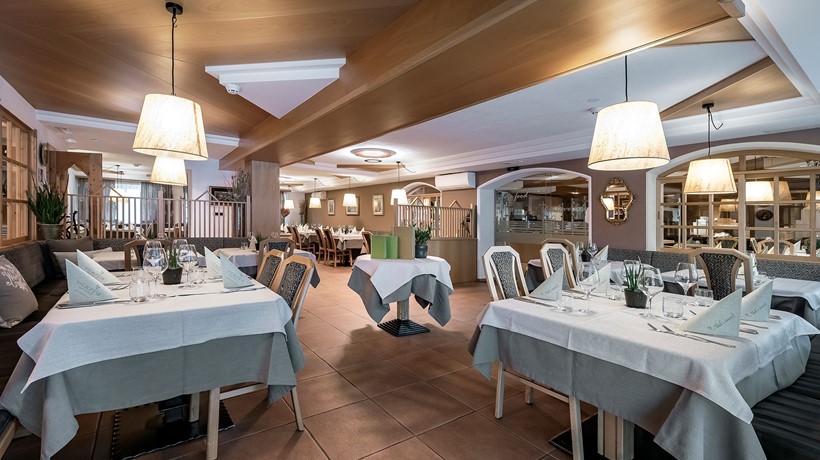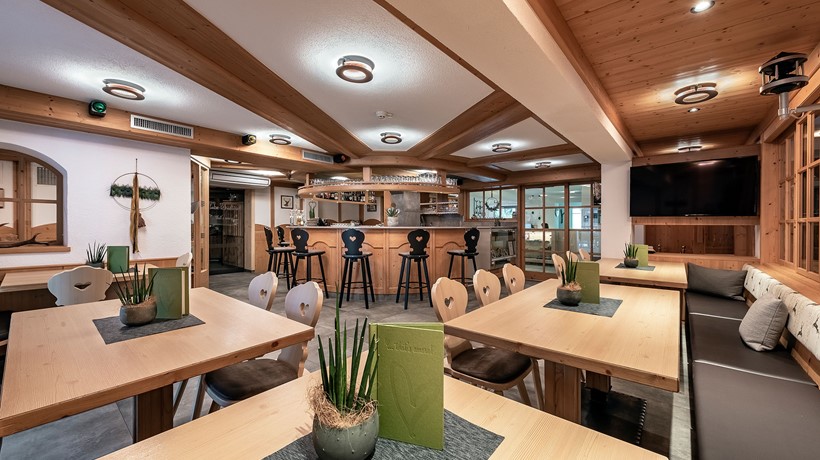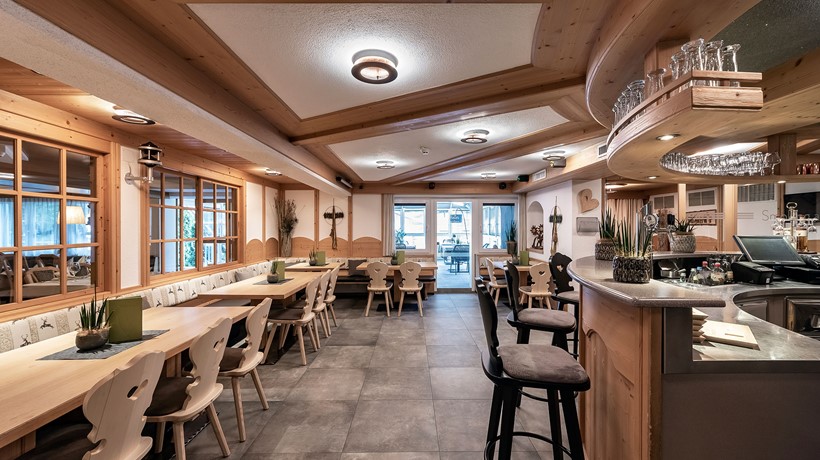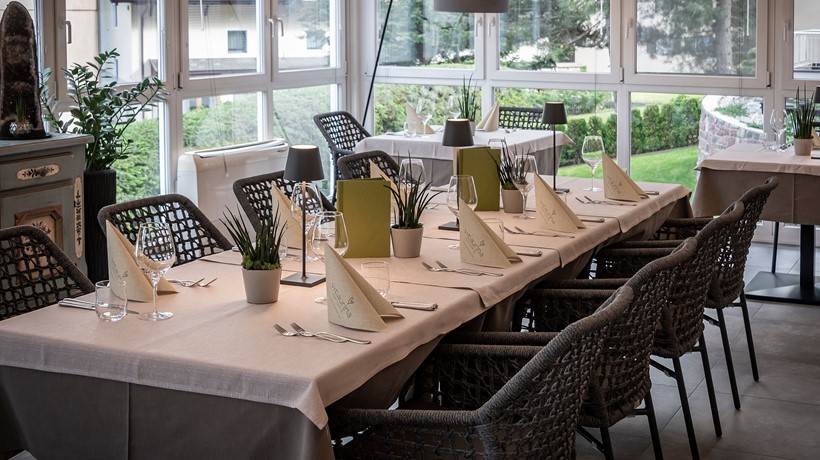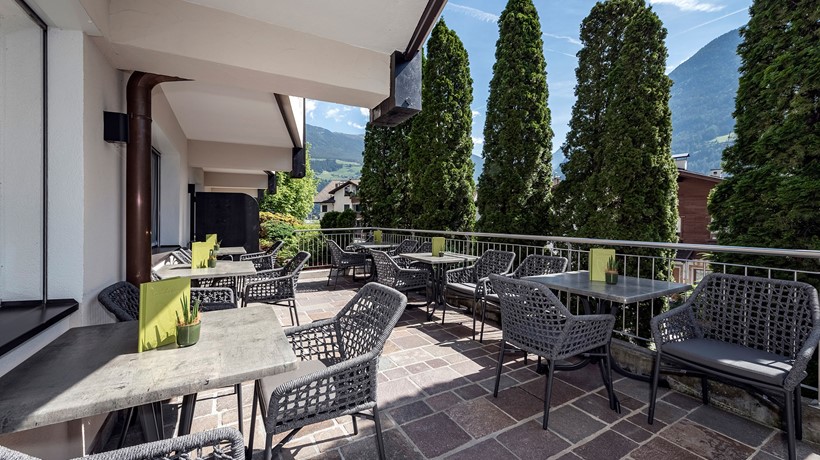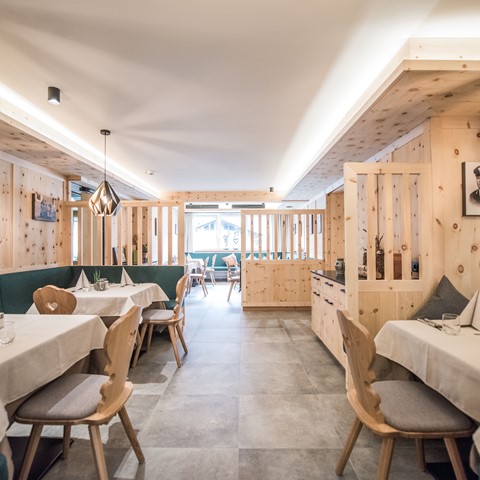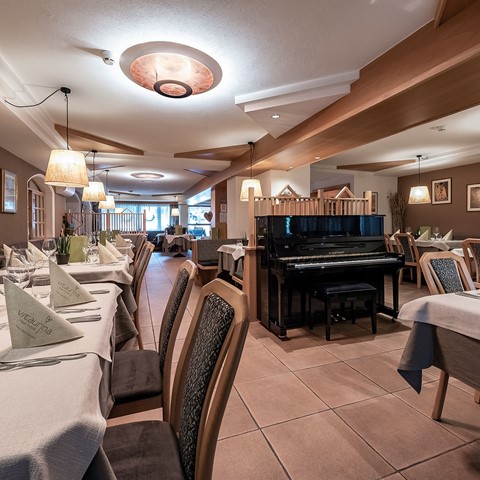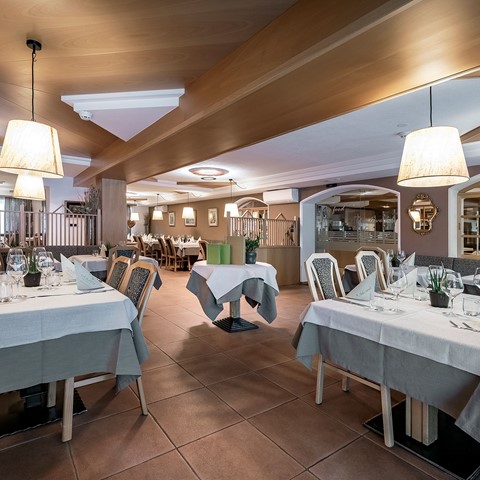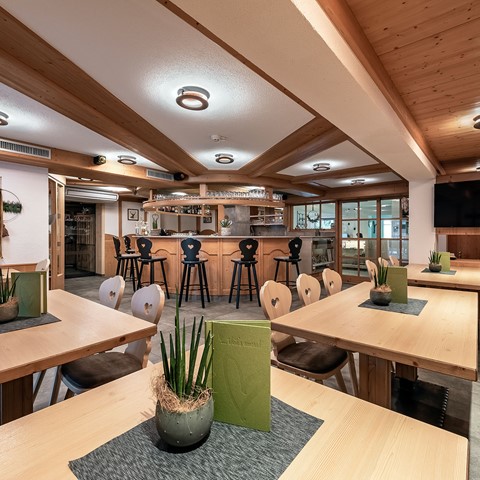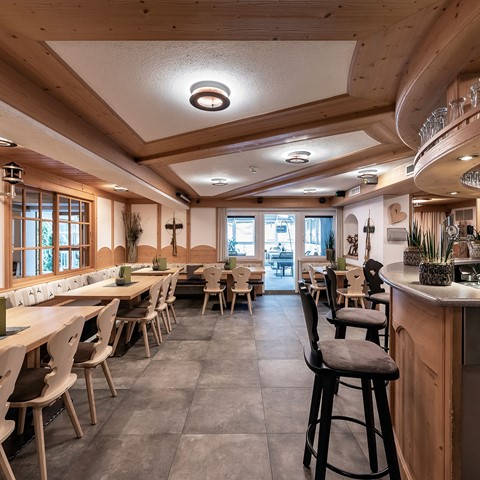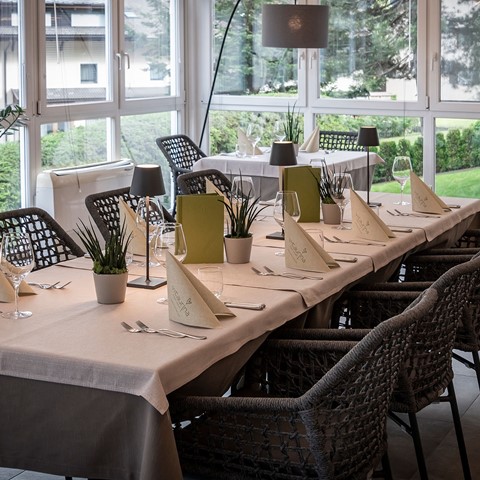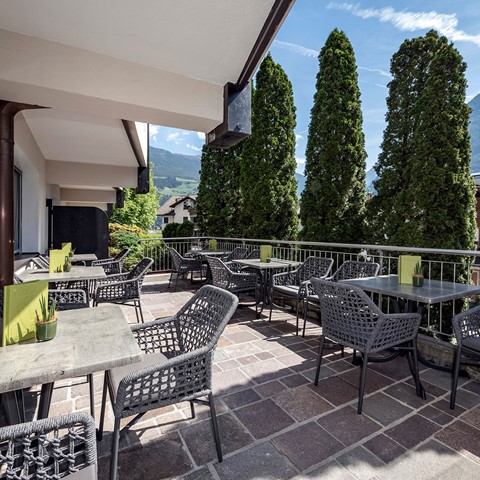 Vitaurina Royal half board
Including everything food lovers could wish for
Your culinary holiday in South Tyrol starts with our half board in the morning – a substantial and healthy breakfast from the large buffet with fresh products of the region such as: crunchy bread, "energy corner" with cereals and grains, different dairy products, cold cuts and cheese, fresh eggs and homemade delicacies such as jams, sweets and cornetti – croissants, freshly pressed juices and tasty Italian coffee in all its variants – espresso, macchiato, cappuccino, latte macchiato from our automatic coffee machine. You may have breakfast like you use to, or you can choose between an abundant, continental breakfast with many savoury and sweet proposals or a typical Italian breakfast with cornetto, cappuccino and orange juice – just as the fancy takes you!
In the evening we will pamper you with a 4 course menu at choice accompanied by a large salad and vegetable buffet including flavoursome dressings and oils or a predefined 5 course special menu and children's dishes for our small guests. Choose some good wine to top off your dinner from our selection of fine Italian and South Tyrolean wines.
You are vegetarian or have a food intolerance? No problem! Aside of our varying vegetarian dishes we do also prepare lactose and gluten free gourmet dishes form north and south. Please let us know on booking if you prefer vegetarian, lactose or gluten free food, so we may prepare best for your stay with us.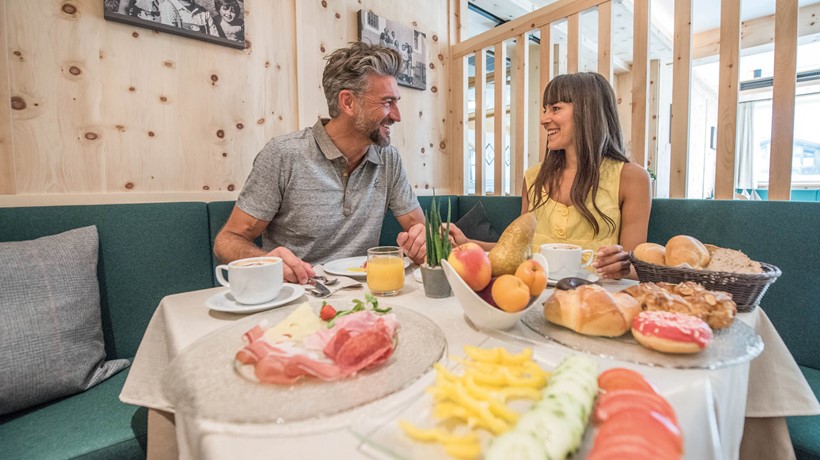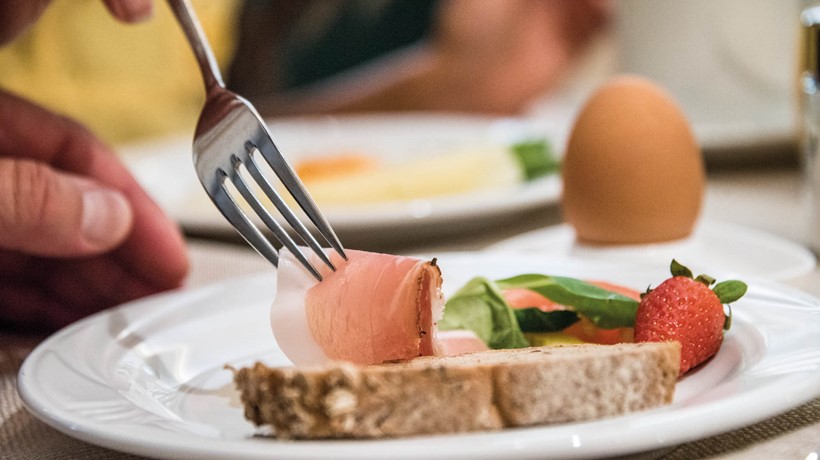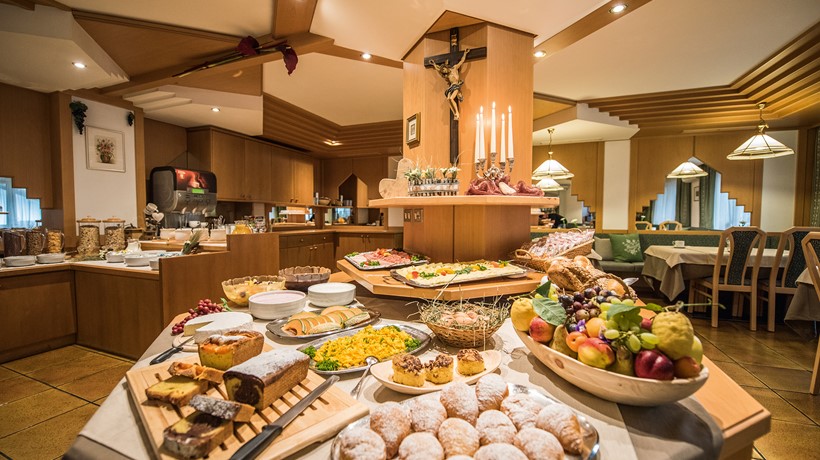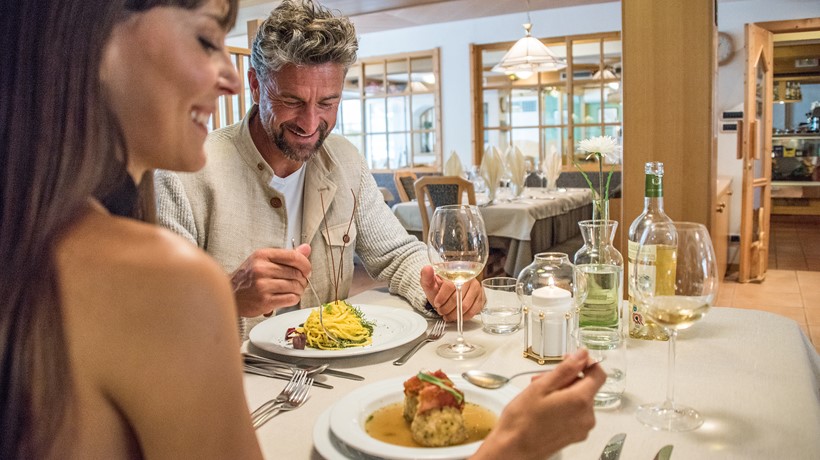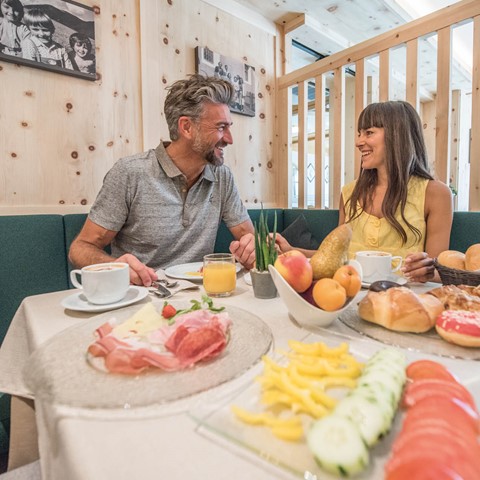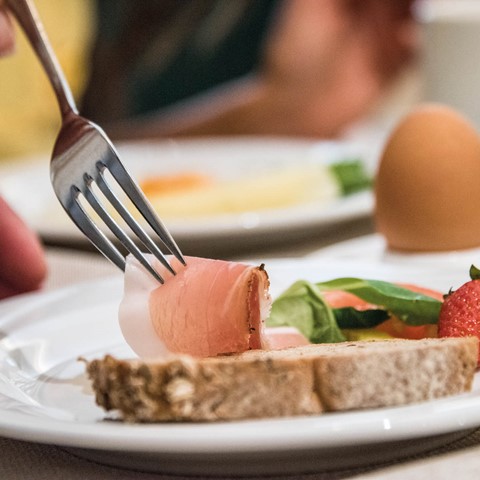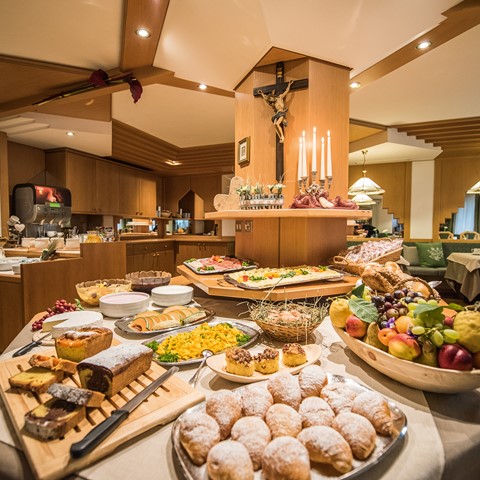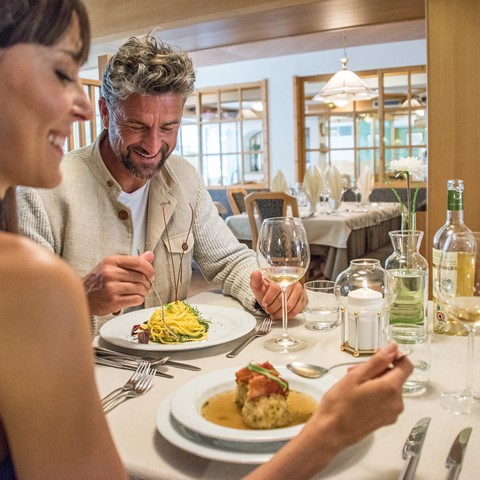 Tyrolean treats
Savoury and genuine
We will spoil gourmet palates with the tastiest dishes our region has to offer! You will get to know South Tyrolean food at its finest. Aside of specialties you meet all over South Tyrol such as the famous bacon dumplings – Speckknödel, pasta dough dumplings filled with spinach – Schlutzkrapfen, spinach Spätzle, Geröstl, Frittatensuppe, Kaminwurzen sausages, bacon and cheese with crispy bread and horseradish, Kaiserschmarren, apple strudel and sweet Krapfen we will also give you an understanding of the Ahrntal Valley cuisine. Look forward to try the valley's favourite dish – pressed dumplings with Graukäse (grey cheese), Tirtlan stuffed with curd cheese, spinach or cabbage, Schworzbanöckn, white wine soup, Niggilan, Kasnöckn cheese dumplings, Brennsuppe, Erdäpfelblattlan potato leafs, or sweet dishes such as Äpflkiachlan, Siessa Kropfn, Melchamuis, Kniakiachlan with cranberry jam, Schworzplentina roulade …

You don't understand a word? No problem! At our hotel you will have the possibility to discover and fall in love with all these toothy delicacies!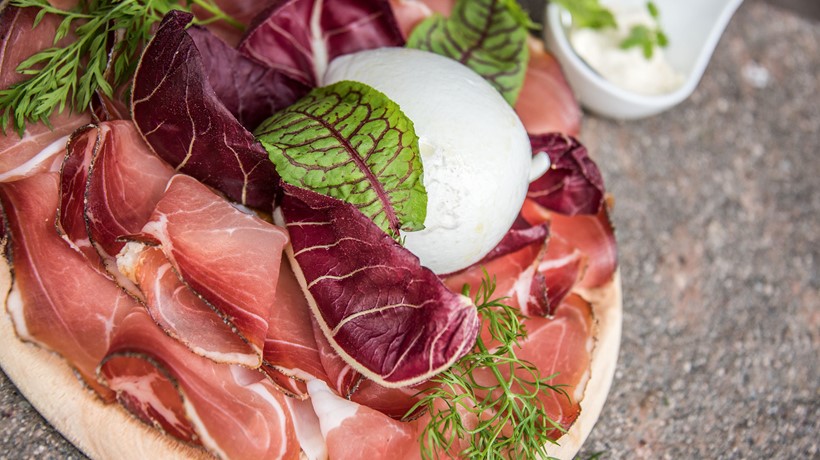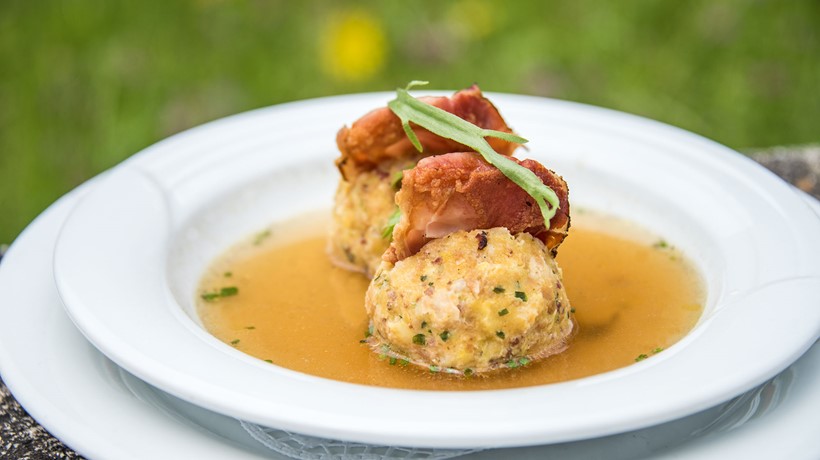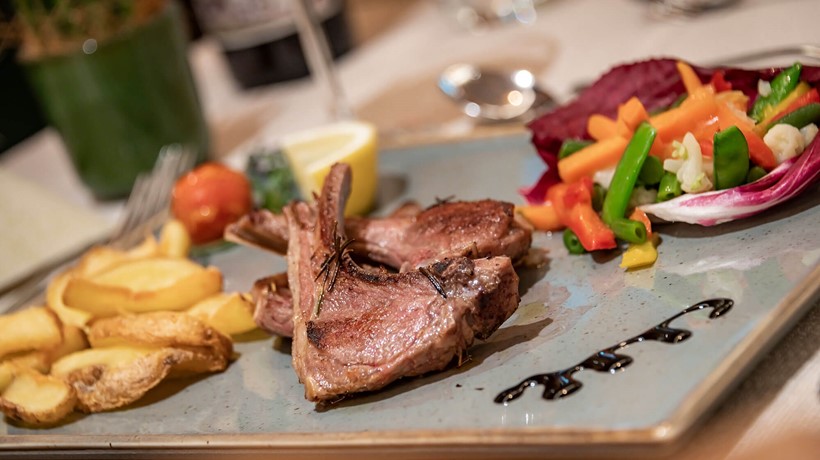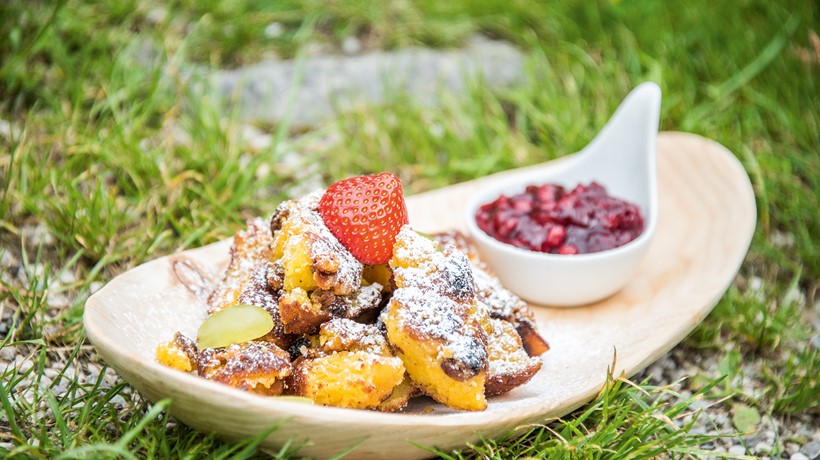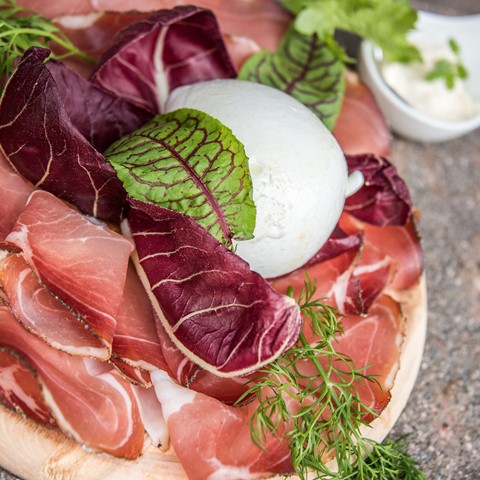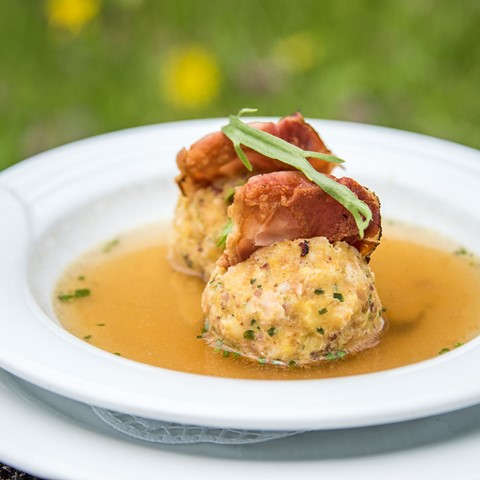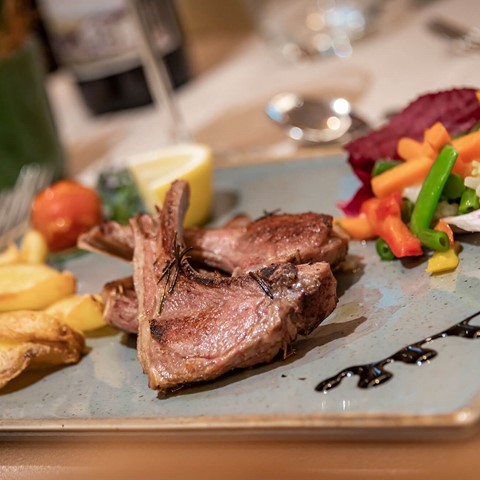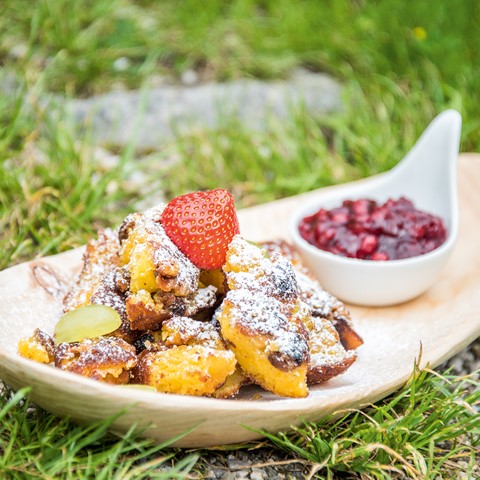 Mediterranean flavours
A touch of Sardinia
Our repertoire of Mediterranean foods especially includes Italian and traditional Sardinian goodies. Meet popular pasta and rice dishes with fresh vegetables, olives and herbs from our own herbs garden, garnished with finely grated Sardinian pecorino (sheep milk cheese), specialties such as squid carpaccio with bottarga (cured fish roe), various pasta dishes with Sardinian pasta type fregola, swordfish carpaccio, zuppa gallurese (bread casserole with pecorino and mint), Sardinian gnocchetti named malloreddus, pane carasau – typical thin bread shepherds' bread, boar dishes …
Nowhere else you will have the possibility to experience such combinations of different flavours. Imagine you are sitting on our terrace, gazing over the mountains of the Ahrntal Valley, while having a glass of tangy South Tyrolean white wine and Sardinian culurgiones (pasta dumplings filled with potatoes). With us, you will get to know South Tyrol and Sardinia by heart at once!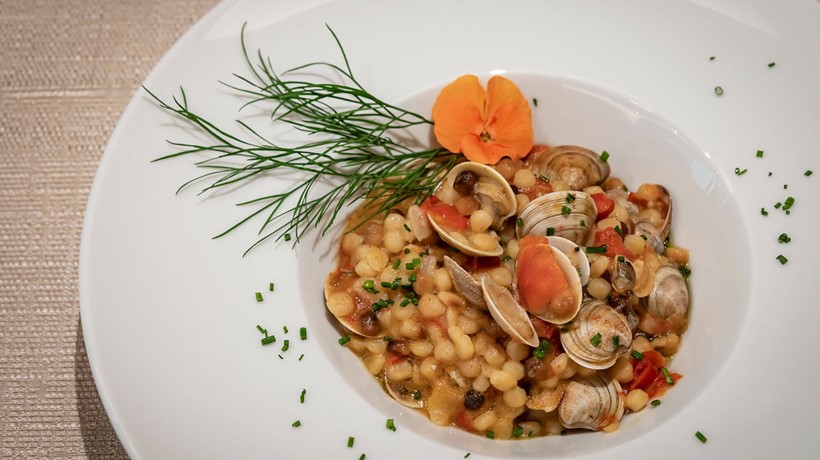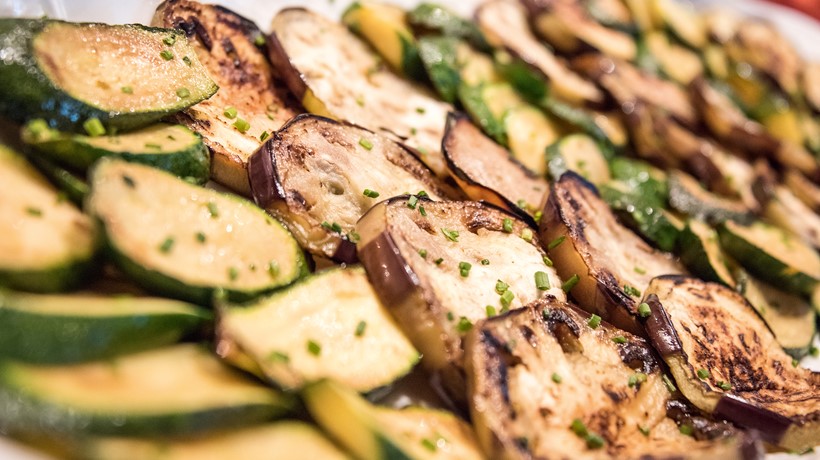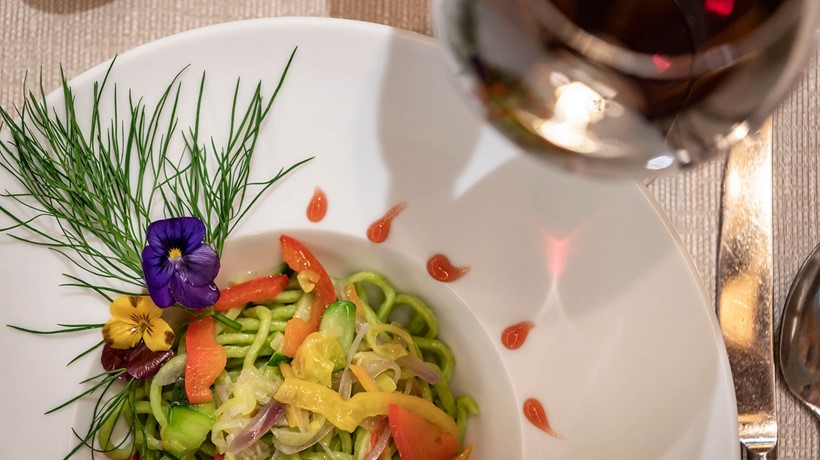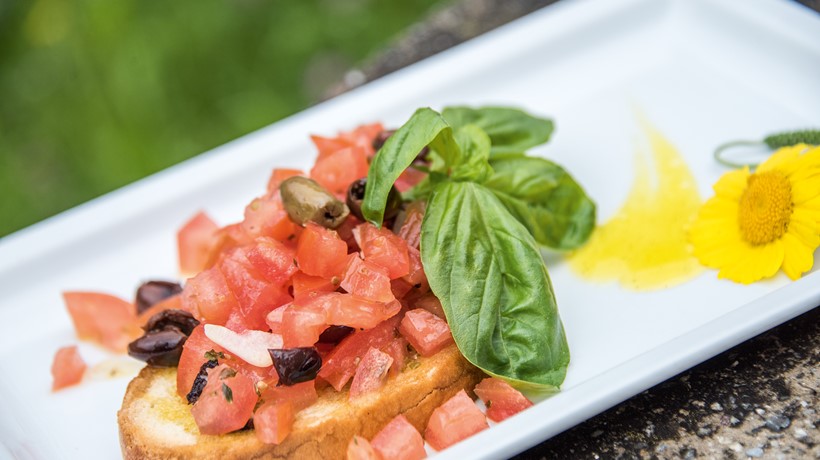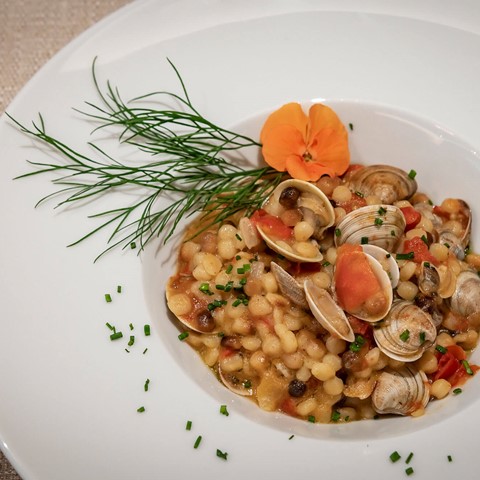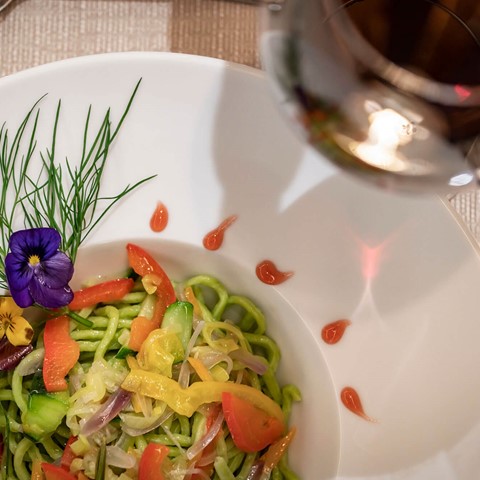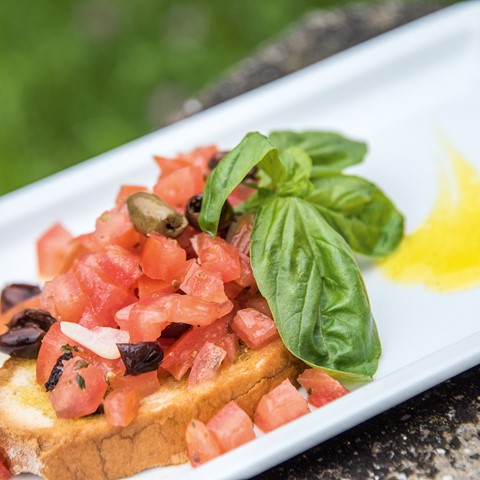 Vitaurina Royal specials
The way to the heart is through the stomach
Aside of our dinner menu we arrange theme dinners once a week, introducing you to the fabulous world of Alpine-Mediterranean culinary delights. Taste the famous traditional bacon dumplings on the occasion of the Tyrolean specialties evening or delicious fish dishes with spicy Gewürztraminer wine at the "Mare & Monti" evening. How about some homemade apple strudel with vanilla sauce and Italian espresso in the afternoon?
The Vitaurina cuisine presents itself as colourful as the Ahrntal landscape.
At Vitaurina, we set great store on the origin and quality of the foods we refine to delightful treats. Bread, potatoes, dairy products, vegetables and meat are coming from the near surroundings, since we set particular focus on the authenticity and naturalness of our dishes.
Our culinary concept – the symbiosis of north and south. Our dishes reflect the culinary tradition of South Tyrol and Sardinia. The savoury-rustic alpine farmers' food and the simple and delicate dishes of Sardinian shepherds and fishermen. Alpine-Mediterranean creations we arrange in the shape of small and big treasures on your plate – always with lots of amore!